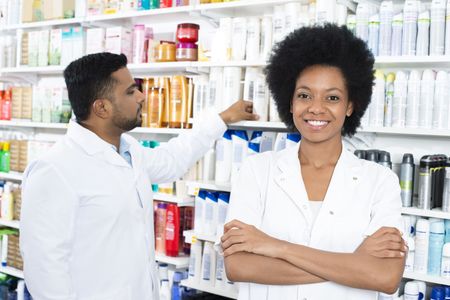 Our Team
Our pharmacists and compounding specialists have received extensive training in compounding techniques. We operate with a support network that promotes a constant exchange of ideas, innovations, and techniques. Dorneyville Pharmacy is a member of PCCA (Professional Compounding Centers of America), IACP (International Academy of Compounding Pharmacists) and ACVP (American College of Veterinary Pharmacists). We are proud to provide you with decades of compounding experience to ensure the best care possible.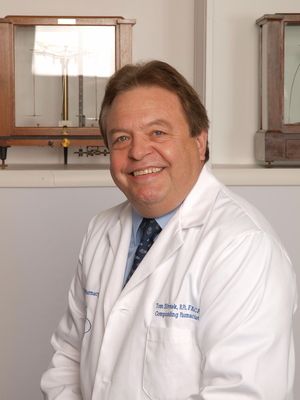 Thomas Silvonek, RPh
PHILADELPHIA COLLEGE OF PHARMACY & SCIENCES
PRESIDENT & CHIEF PHARMACIST
Favorite Aspect of the Job: Thomas has been affiliated with the art of compounding pharmacy for many years and is a proud member of the IACP, PPA, LVPSA, ACA, ACVP, advanced equine, canine, feline, and exotic pet therapeutics.
Interests: Thomas enjoys spending summer weekends with his wife at the beach. He also enjoys offshore fishing and is an active member of numerous community organizations.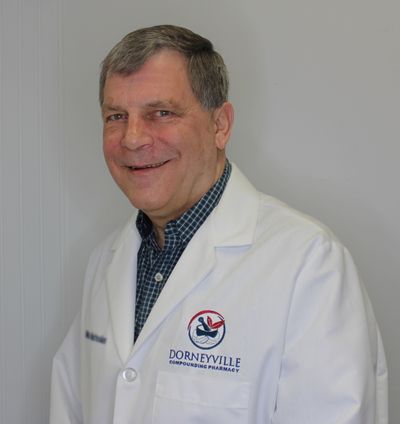 Michael Perun, RPh
DUQUESNE UNIVERSITY (B.S. PHARMACY), DIERUFF HS
Favorite Aspect of the Job: I am learning something new every day. I am enjoying working with pet medication
Personal Interests: I follow all sports and especially like basketball.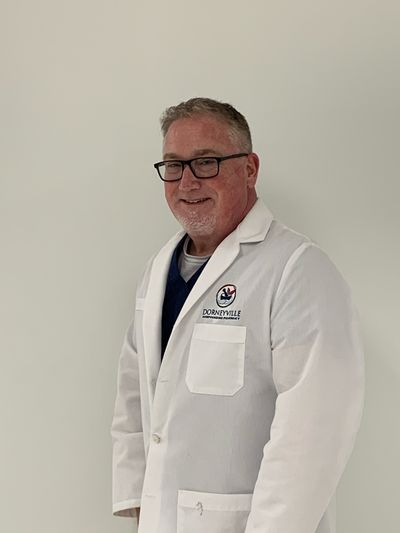 Richard Dilzer, Sterile Compounding Pharmacist
Education/Training: Rutgers University College of Pharmacy
* Fellow, American College of Apothecaries
* Fellow, Alliance for Pharmacy Compounding
Favorite Aspects of Job: Working with the Dorneyville Pharmacy team
Interests: gardening, bicycling, spending time with grandchildren
Emmett Phillips
Temple University School of Pharmacy
35+ years IV Pharmacist
Favorite Aspects of Job: Helping our customers get well, stay well, and enjoy better quality of life and love our Dorneyville family.
Interests: ice hockey, all sports, and running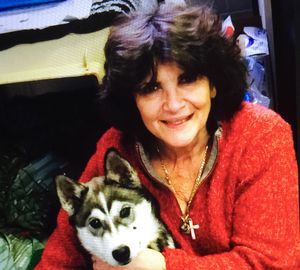 Celeste Casciano Silvonek
LEHIGH UNIVERSITY, KUTZTOWN UNIVERSITY, BETHLEHEM CATHOLIC HIGH SCHOOL
Favorite Aspects of the Job: My favorite part of the job is getting the to interact with our customers and staff. Our staff is so knowledgeable in regards to all medications made in our labs, and will always take the time to answer any question/concern.
Interests: The beach, gardening, artwork, and supporting our local animal shelters. I love caring for my 95 year old mother and our one and a half year old granddaughter, as well as our stunning Siberian Husky, Axl.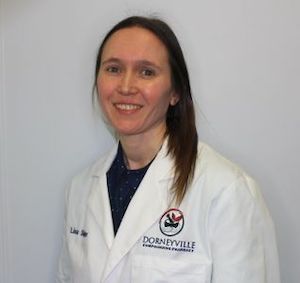 Lisa Silvonek
LEHIGHTON AREA HIGH SCHOOL, CATHOLIC U OF AMERICA (BA - POLITICAL SCIENCE), ST. JOSEPH'S UNIVERSITY (MS - CRIMINAL JUSTICE), CAPELLA UNIVERSITY (MS - CHILD/ADOLESCENT PSYCHOLOGY)
Favorite Aspects of the Job: I love my job because everyone shares the same vision and is dedicated to providing the best care and service to our patients. I also enjoy helping my family's business grow.
Personal Interests: Running Marathons - goal to run in every state, traveling, reading, spending time with family and friends, hanging out with my dogs, going to Phillies games, and going to vegan festivals.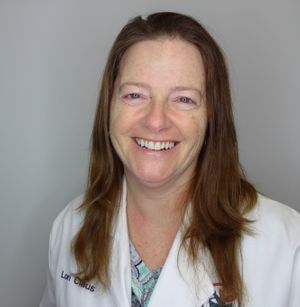 Lori Claus
DELAWARE VALLEY COLLEGE - EQUINE SCIENCE
CERTIFIED PHARMACY TECHNICIAN (CPHT) & ACA & STERILE COMPOUNDING, LEAD HAZARDOUS TECHNICIAN
Favorite Aspects of the Job: I find all aspects of compounding interesting. I enjoy doing research.
Interests: Spending time with my husband and my two dogs. I also enjoy bowling, golfing, kayaking, hiking, and the gym. I am also a student instructor at Heart's Journey Stable.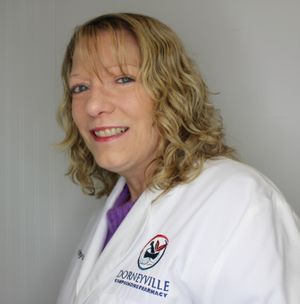 Lisa Snyder
B.S. BIOLOGY-LABORATORY MEDICINE EAST STROUDSBURG UNIVERSITY
CERTIFIED PHARMACY TECHNICIAN (CPHT) & ACA
Favorite Aspects of the Job: Personal sense of satisfaction from helping animals and humans.
Interests: Cooking, gardening, sewing, collecting PEZ dispensers, and reading.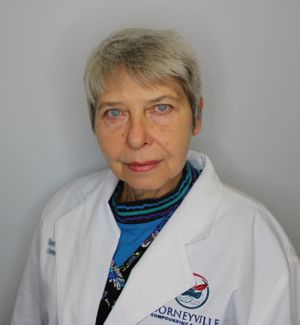 Ewa Mason
BACHELOR OF ARTS
CERTIFIED PHARMACY TECHNICIAN (CPHT), LEAD NON-STERILE TECHNICIAN
Favorite Aspects of the Job: I enjoy all the facets of compounding because of the variety of processes, but most of all I look forward to new and complex formulations that challenge my expertise.
Interests: My favorite hobby is floral gardening. I recommend it to everybody; children and elderly included.I also like to watch foreign movies to exercise my knowledge of foreign languages (e.g. French, Spanish, Polish) and to appreciate diverse cultures and sense of humor. I love to share these activities with my granddaughter.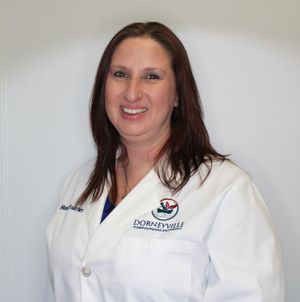 Mandi Yoachim
PARKLAND HIGH SCHOOL
CERTIFIED PHARMACY TECHNICIAN (CPHT)
Favorite Aspects of the Job: Helping customers and making a difference
Interests: Spending time with family and my dogs, Storm and Koda. Also, taking care of the pigs, Happy the goat, TJ the horse and the chickens at the family farm.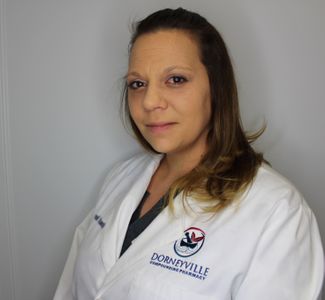 Mindy Klimpel
AVON GROVE HS, MILLERSVILLE UNIVERSITY, LINCOLN TECH
LEAD STERILE COMPOUNDING TECHNICIAN (CPHT)
Favorite Aspects of the Job: I love the math involved in compounding and making treats. I love learning something new every day.
Interests: My free time is spent with my two sons, attending sporting events and other after school activities. I love painting and making crafts as well as cooking and baking.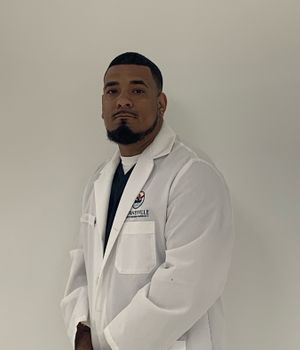 Jonuel Curet
Pharmacy Technician Diploma from Lehigh Carbon Community College
Favorite Aspects of Job: Learning something new every day, working with my co-workers
Interests: Reading, hiking, music, sports, spending time with my family and friends